The new EU-funded EuropeAid project "Support to improve citizen-centric public service delivery" is part of the reform of public services delivery which is being driven by the initiative "Innovation against Corruption: Building a Citizen Centric Service Delivery Model in Albania" undertaken by the Government of Albania since 2014. The pillars of citizen centric service delivery reform are Front Office (FO)-Back Office (BO) separation; integrated service delivery through business process re-engineering; legal reform; and digitization of services.
The project will support ADISA to strengthen the public service delivery in Albania by undertaking a series of project tasks around 6 components with specific objectives per each component, as presented in the following scheme: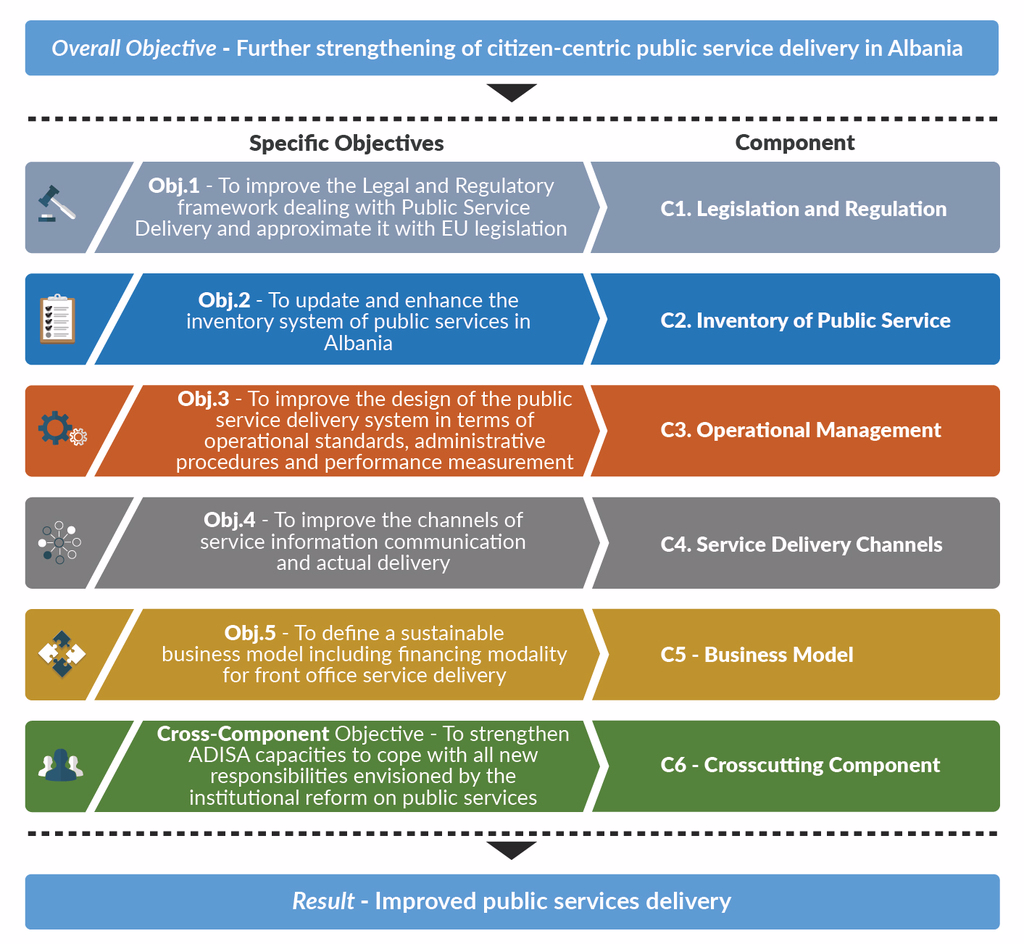 During a period of 18 months (June 2017-December 2018), the project will support and work closely with ADISA on reviewing the legal framework on service delivery; applying regulatory impact assessment for proposed legal change; designing a methodology on institutional corruption risk assessment and apply it for selected institutions; developing data platforms and collecting information from institutions to further update the inventory of public services in Albania; setting up performance measurement systems for ADISA's operations and Integrated Service Centers; assessing organizational functioning of Integrated Service Centers and preparing manuals of operations; designing a business model for ADISA's overall operations; increasing the capacities of ADISA to handle the reform by organizing study tours and a series of trainings in project and change management, public service delivery standards, and communication skills
The planned interventions will contribute in improving public service access and quality for citizens and businesses. It will also will contribute to the efficiency increase in the Albanian public administration as well strengthening the rule of law and fighting against corruption.
The project is implemented by a Consortium including Humelica (leader – Belgium), GOPA Consultants (Germany), ICON-Institute (Germany) and IDRA Research & Consulting (Albania).