Foreign nationals who want to obtain a residence permit in the Republic of Albania (RS) should justify the purpose of coming to Albania like employment / 

self-employment, 

 study , family reunion etc.

The foreigner applying for a residence permit, 

at the moment of the application must have the list documentation specified in Decision no. 513, dated 13.06.2013 of the Council of Ministers "On the determination of the criteria, procedures and documentation for the entry, stay and treatment of foreigners in the Republic of Albania".For all the above cases, nationals from countries that are not required to have a visa apply directly to obtaining a residence permit. All other nationals who are eligible to apply for a residence permit must be provided with a residence visa.
If you are a citizen of any of the above-mentioned states, employed and willing to stay in Albania more than 90 days within 180 days, then you should follow the below steps and obtain the following listed documents:

1. For the citizens of the above-mentioned states who are willing to be employed in Albania, please note that they may sign the Employment Agreement with an Albanian company only if the company has published in the Local Labor Office the notice for Vacancy Position for at least 4 weeks and within this period no offer for employment from the Labor Office has been provided. After fulfilling the condition mentioned in the first sentence, the employer has the right to sign the Employment Agreement and the foreigner or his/her representatives (by means of Power of Attorney) within 8 days period should submit the application for Work Permit.
2. Upon the issue of the Work Permit document (which is issued within 30 days), you have the right to apply for Type D visa before the Albanian Embassy / Consulate located in the cities as specified in the table above. For this procedure the main document needed is the Invitation Letter which is provided from an Albanian citizen or a foreigner with Albanian Residence Permit (respectively 1-year Residence Permit).
 3. After obtaining the Type D visa and entering Albania territory, the foreigner should submit the Application for Residence Permit before the Border and Migration Offices. Please note that the application for Residence Permit must be submitted no later than 30 days following his/her LAST ENTRY in Albanian territory.If the foreigner has stayed in Albania more than 30 days please consider to visit one of our border states and reentering our country in order to have a new entry date in Albania.
Foreigner citizens who are registered as employee in Albania or who are willing to be employed in Albania, according the Law "On Foreigners", are granted with the right to apply and obtain Albanian Residence Permit. As the procedure differs based on the nationality, kindly find here below an explanation about the procedure for the citizens of the following countries:
STATE
Albanian Embassy in:
STATE
Albanian Embassy in:
Afghanistan
Ankara, Istanbul
Malawi
Cairo, Istanbul
Algeria
Paris
Maldives
London
Angola
Rome
Mali
Rome
AntiguaandBarbuda*
London
Mauritania
Cairo, Istanbul
Armenia *
Ankara, Moscow
Mauritius *
London
Azerbaijan *
Ankara, Moscow
Mexico *
Rome
Bahamas *
London
Moldavia
Bucharest, Sophie, Ankara,
Istanbul
Bahrain
Riyadh, Doha
Mongolia
Moscow, Beijing
Bangladesh
Beijing
Morocco
Bucharest, Paris
Barbados *
London
Mozambique
Cairo, Istanbul
Belize
London
Namibia
Cairo, Istanbul
Belorussia
Moscow, Warsaw
Nepal
Beijing
Benin
Paris
Nicaragua *
Rome
Bolivia
Brasilia
Nigeria
Cairo, Istanbul
Botswana
Paris
Oman
Riyadh, Abu Dhabi
Brunei *
Rome, Riyadh
Pakistan
Cairo, Istanbul
Burkina Faso
Rome
Palestine
Cairo, Istanbul
Cambodia
Beijing
Panama *
Rome
Cameron
Cairo
Paraguay *
Brasilia
Colombia
Brasilia
People's Republic China
Beijing
Congo
Cairo, Istanbul
People's Republic of Korea
Beijing, Sophie
Costa Rika *
Brasilia
Peru
Brasilia, Madrid
Cuba
Brasilia, Sophie
Philippine
Beijing
Dominican Republic
Brasilia, New York
Qatar
Doha
Ecuador
Brasilia
Ruanda
Cairo, Istanbul
Egypt
Cairo
Russia
Moscow
Eritrea
Cairo
Salvador *
London
Ethiopia
Cairo
Sao Tome Principe
London
Fiji
London, Tokyo
Saudi Arabia
Riyadh
Gabon
Cairo, Rome
Senegal
Cairo, Istanbul, Paris
Georgia
Ankara, Istanbul
Seychelles *
Cairo
Ghana
Cairo, Rome
Sierra Leone
Cairo, London
Gibraltar
Madrid
Somali
Cairo, Riyadh
Guatemala *
Brasilia
South Africa
Rome, London
Guinea
Cairo, Istanbul
Sri Lanka
Beijing
Guyana
Brasilia, Rome
St .Kitts and Nevis *
Tokyo, London
Haiti
Brasilia, New York
Sudan
Cairo
Honduras *
Brasilia, New York
Suriname
Brasilia
Hong Kong, China *
Beijing
Syria
Cairo, Istanbul
India
Beijing
Tajikistan
Ankara, Moscow
Indonesia
Beijing
Tanzania
Cairo, Istanbul
Iran
Ankara, Istanbul
Thailand
Beijing
Iraq
Ankara, Istanbul
Togo
Cairo, Istanbul
Ivory Coast
London
Trinidad Tobacco
London
Jamaica
London, New York
Tunisia
Cairo, Istanbul
Jordan
Cairo
Turkey *
Ankara, Istanbul
Kazakhstan*
Ankara, Moscow
Turkmenistan
Ankara, Istanbul, Moscow
Kenya
Cairo
Uganda
Cairo, Istanbul
Kirgizstan
Ankara, Moscow
UnitedArabEmirates
Abu Dhabi
Kuwait
Kuwait
Uruguay *
Brasilia, Rome
Lebanon
Cairo, Istanbul
Uzbekistan
Istanbul, Moscow
Lesotho
Cairo, Istanbul
Venezuela *
Brasilia, Rome
Liberia
Bucharest
Vietnam
Beijing
Libya
Cairo, Istanbul
Yemen
Riyadh, Abu Dhabi
Macao *
Beijing
Zambia
Cairo, Istanbul
Madagascar
Cairo, Istanbul
Zimbabwe
Cairo, Istanbul
*Please note that if you didn't find your country in this list you can apply in the nearest Albanian Embassy with your
country.
STEPS -Residence permit for self employment reasons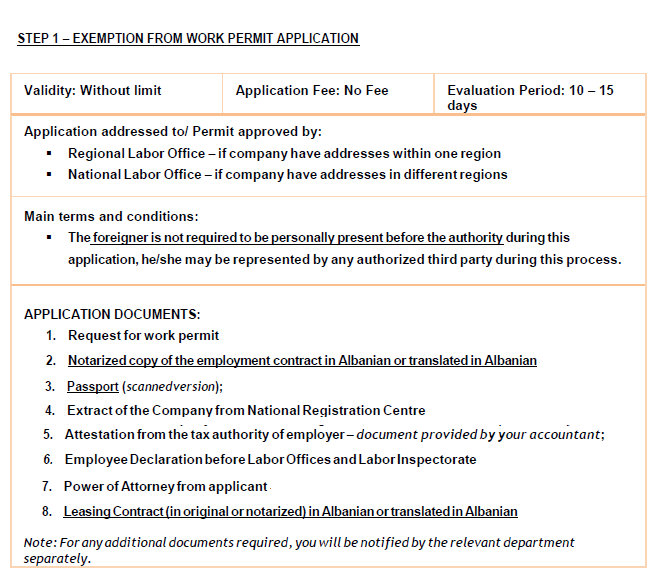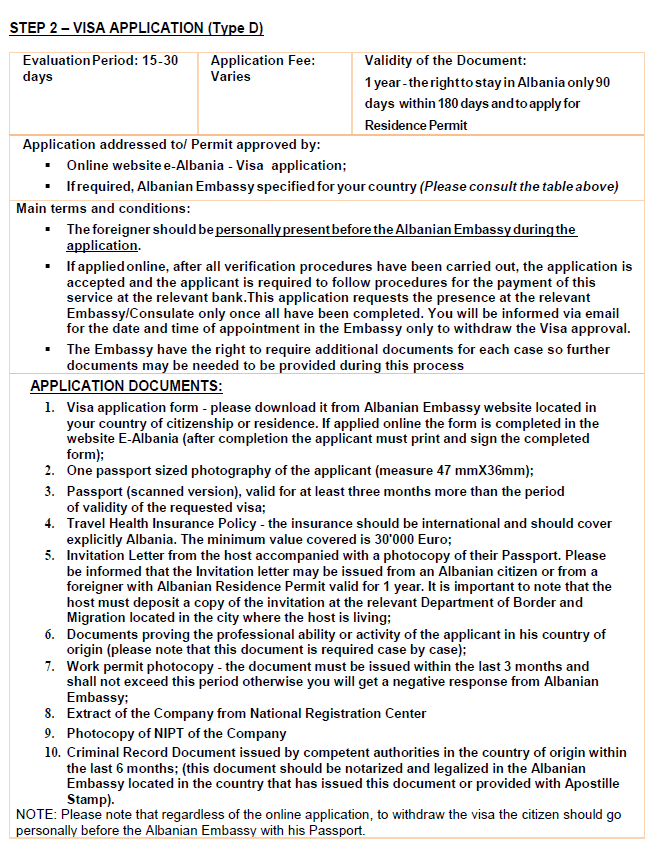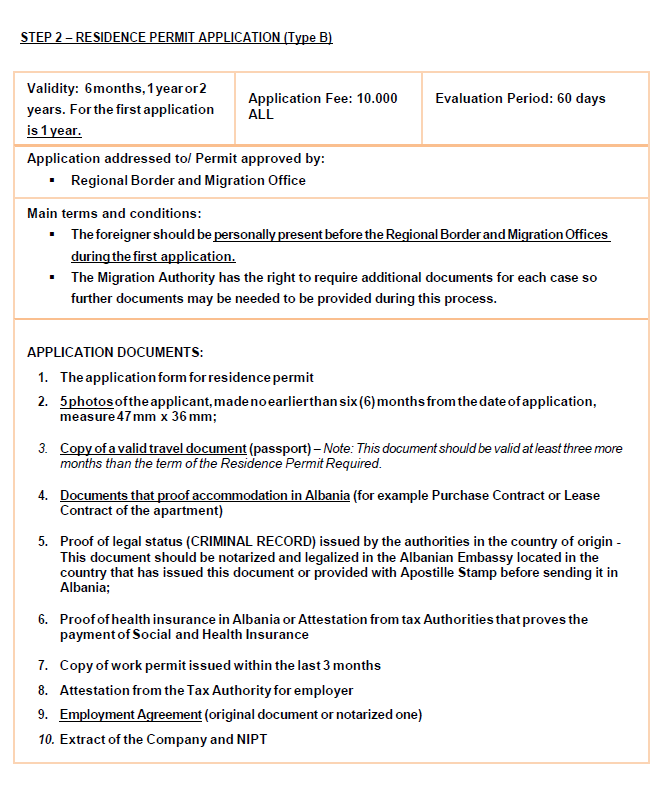 Information on applying for a residence permit for family reunification purposes
According to Law no. 108, dated 28.03.2013 "On aliens", the alien intending to preserve the family unit, whether the family relationship arose before or after the entry of the resident in the Republic of Albania, in the case of family reunification of the alien.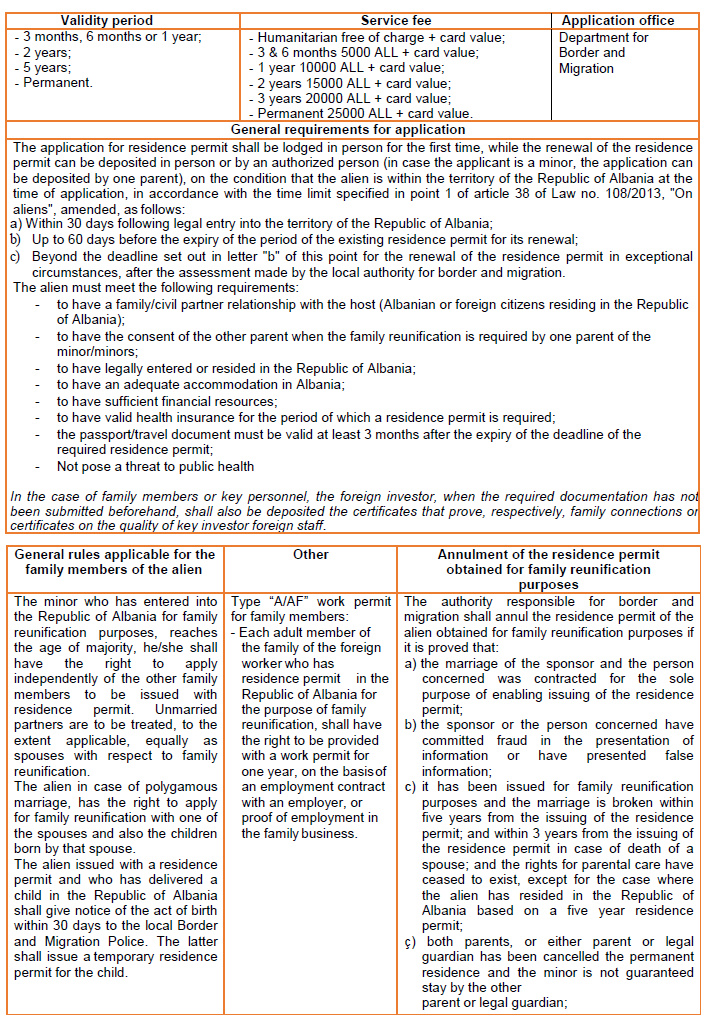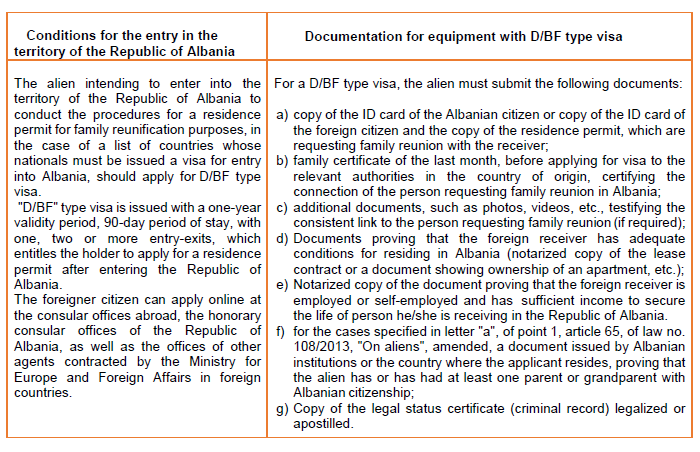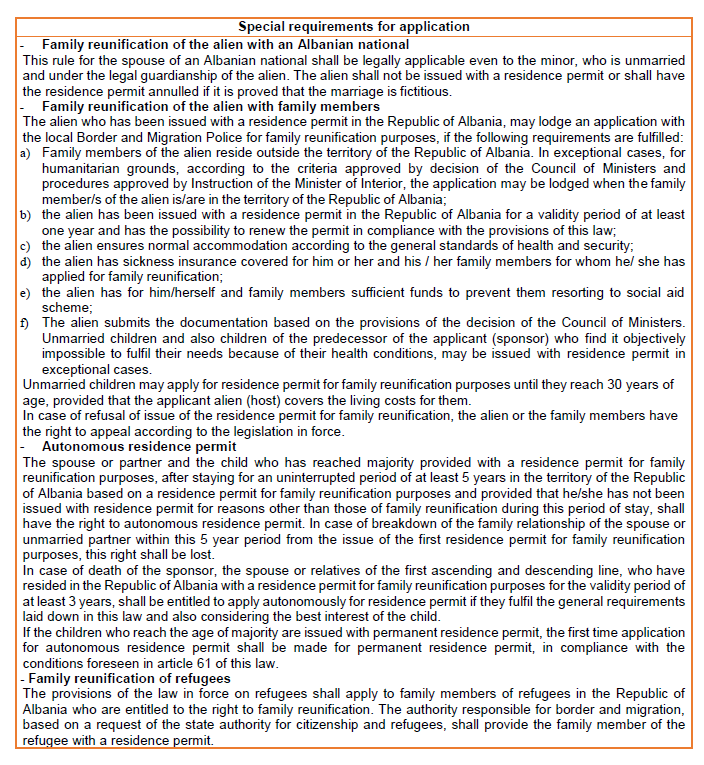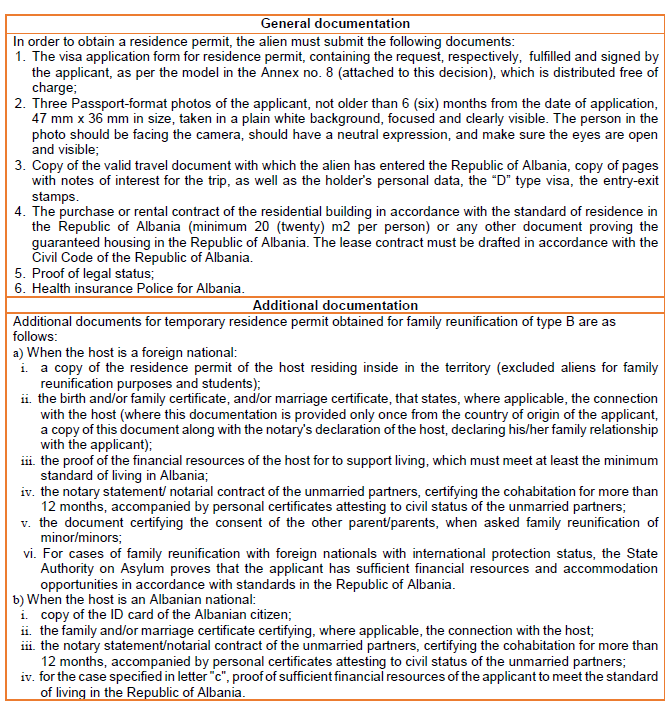 STEPS – Humanitarian grounds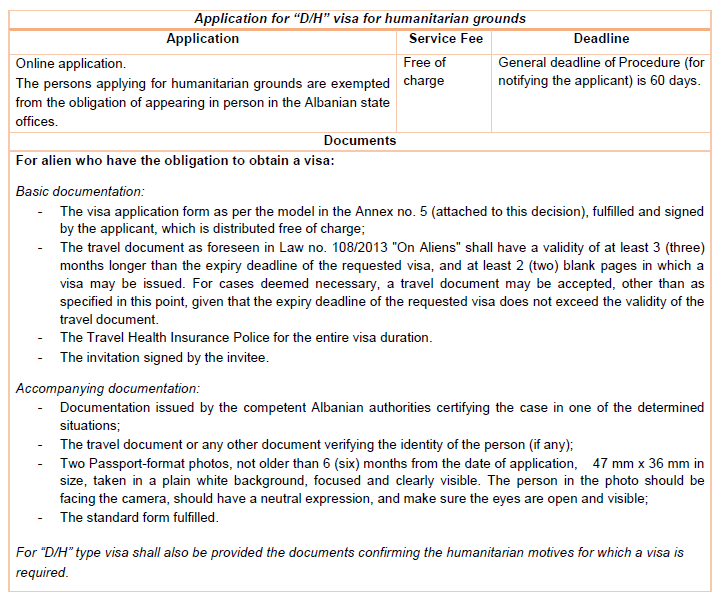 The alien who seek to be issued with a residence permit in the Republic of Albania, shall lodge an application with the local authority responsible for border and migration to obtain a residence permit for humanitarian grounds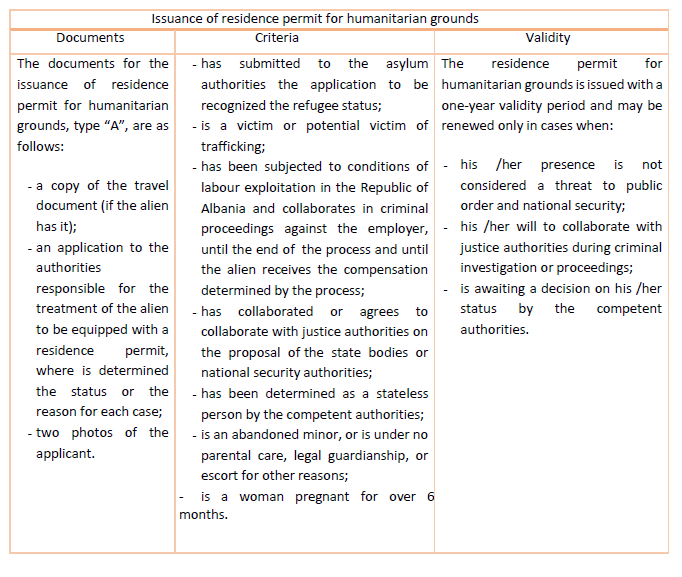 The alien who has entered and willing to stay in the territory of the Republic of Albania for study purposes in a public or private educational institution, is granted with the right to apply for a residence permit, according to the general requirements as per articles 34, 37 and 38 of Law No. 108/2013 "On foreigners".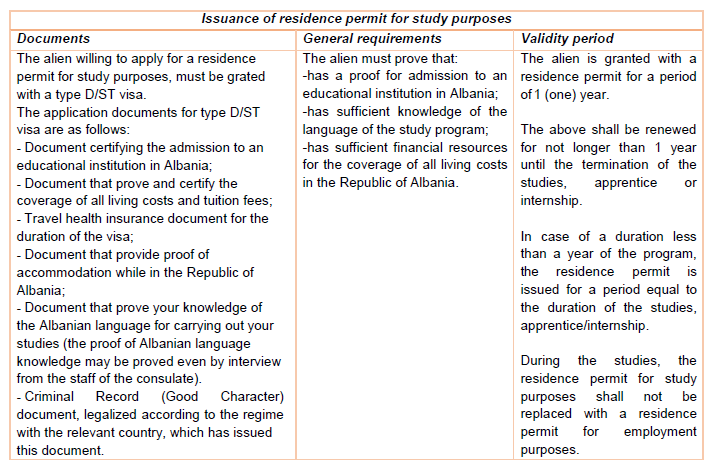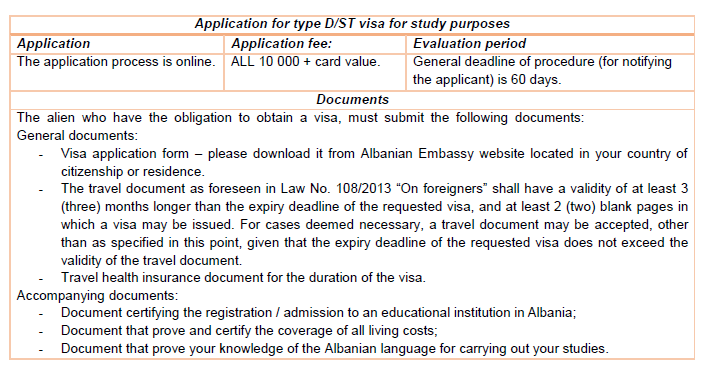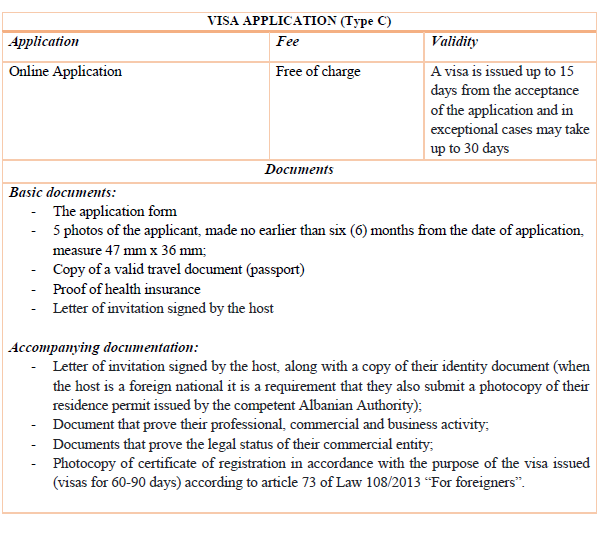 A foreigner who has entered and resides in the Republic of Albania for professional, commercial and business purposes has the right to apply for a residence permit, in accordance with the general criteria set forth in Law No. 108/2013 on Foreigners.